About Us
Kenton Spice is a Indian takeaway in London. Why don't you try our Mixed Vegetable Karahi or Jeera Aloo?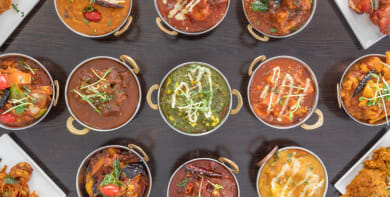 Reviews
512 reviews
Artemis
"Great as always. Was late By 15 minutes only. but understood they were very busy. Got a message about this. Would definitely order again"
29/05/2020
Marie
"Good portions. Food tasted very authentic. Hot and fresh."
29/05/2020
Brenda
"Food was very hot when it arrived and was very tasty."
28/05/2020
hannan
"Very consistent quality and taste of food. Very quick delivery. My fav order now"
24/05/2020
Menu
Paneer Tikka Methi
Vegetarian
£6.85
Mixed Vegetable Rogan Josh
Vegetarian
£5.25
Paneer Tikka Rogan Josh
Vegetarian
£6.85
Special Biryani
Lamb, chicken, prawn & peas
£8.95
Lamb Keema Biryani
Minced meat
£7.75
Mixed Vegetable Biryani
Vegetarian
£6.50
Mushroom Biryani
Vegetarian
£6.50
Paneer Biryani
Indian cheese
Vegetarian
£7.00
Paneer Tikka Biryani
Vegetarian
£7.50
Samosa (2 Pieces) Chicken
£2.50
Chicken Tikka Samosa (2 Pieces)
£2.95
Kebab Starter Reshmi
Lamb
£3.50
King Prawn Butterfly
Marinated king prawn fried in breadcrumbs
£4.95
King Prawn Puri
King prawn cooked in a medium strength dry sauce. served on a deep fried bread
£5.25
Salmon Tikka
Tender salmon marinated with our own special Kenton spices & herbs
£6.50
Chicken Tikka Roll Regular
£4.99
Tandoori Chicken Wings (6 Pieces)
£3.99
Tandoori Lamb Chops (3 Pieces)
£6.29
Chicken Chaat
Juicy pieces of chicken spiced with a sour sauce
£3.50
Chicken Tikka Pakora - Large
Pieces of chicken tikka cooked in house made batter
£6.50
Meal Platter
Combination of chicken tikka, samosa, seekh kebab, onion bhaji & tandoori wing
£4.95
Peri Peri Wings (6 Pieces)
£3.99
Mixed Vegetable Karahi
Vegetarian
£5.25
Paneer Tikka Karahi
Vegetarian
£6.85
Plain Poppadom
Vegetarian
£0.60
Spicy Poppadom
Vegetarian
£0.60
Chicken Tikka Green Salad
£2.95
Raita Onion
Freshly made yoghurt
£1.75
Raita Cucumber
Freshly made yoghurt
£1.75
Raita Mixed
Freshly made yoghurt
£1.75
Chicken Nuggets (6 Pieces)
With chips
£3.99
Chicken Tikka Dry Fry Masala
Chicken tikka prepared in our own exclusive & authentic version of the famous tikka masala (spicy & thick sauce)
£7.95
Paneer Tikka Dry Fry Masala
Paneer tikka prepared in our own exclusive & authentic version of the famous tikka masala (spicy & thick sauce)
Vegetarian
£6.95
Butter Chicken
Pieces of tender chicken cooked with butter yoghurt plum tomatoes & almond paste to make a rich creamy chicken dish (mild)
£7.95
Special Jalfrezi Chicken Tikka
Chicken or lamb tikka prepared with spring onions, tomatoes & green chillies. medium or fairly hot
£7.95
Special Jalfrezi Lamb Tikka
Chicken or lamb tikka prepared with spring onions, tomatoes & green chillies. medium or fairly hot
£7.95
Peshwari Chicken Tikka
Chicken or Lamb tikka cooked in our famous peshwari gravy, almonds, tomato, spring onions & capsicum. Recommended
£7.95
Peshwari Lamb Tikka
Chicken or Lamb tikka cooked in our famous peshwari gravy, almonds, tomato, spring onions & capsicum. Recommended
£7.95
Tandoori Lamb Chops Bhuna
Succulent tandoori lamb chops cooked in a medium rich freshly made bhuna sauce
£8.95
Jeera Chicken
Traditional curry made from freshly blended cumin
£7.75
Jeera Lamb
Traditional curry made from freshly blended cumin
£7.75
Salee Chicken
Cooked in a flavoursome thick sauce & garnished with crispy potato strips
£7.95
Salee Lamb
Cooked in a flavoursome thick sauce & garnished with crispy potato strips
£7.95
Garlic Chilli Chicken
Chicken tikka cooked with fresh roasted garlic, green chillies & tomatoes, perfect for garlic lovers
£7.75
Garlic Chicken
Chicken tikka cooked with freshly roasted garlic, ginger, tomatoes, onions & blended spices, perfect for garlic lovers
£7.75
Green Masala Diced Chicken
Diced chicken or lamb cooked with various green herbs to create an aromatic, rich flavoured green sauce
£7.50
Green Masala Lamb
Diced chicken or lamb cooked with various green herbs to create an aromatic, rich flavoured green sauce
£7.50
Murgh Masala
Half tandoori chicken cooked in a special homemade sauce
£7.95
Salmon Fry
Tender salmon chunks marinated & cooked to taste in pre-mixed special spices & methi seeds
£10.49
Salmon Bhuna
Tender salmon chunks marinated & cooked to taste in pre-mixed special spices & methi seeds
£10.49
Goan Fish
Succulent boneless fillets of fish cooked with fresh coriander, tomatoes, crushed mustard seeds & garlic in a rich sauce
Mild, medium or hot
£7.50
Kenton Kebab Masala
With lamb minced kebab. Mild, medium or hot
£7.50
Mixed Vegetable Madras
Vegetarian
£5.25
Paneer Tikka Madras
Vegetarian
£6.85
Mixed Vegetable Vindaloo
Vegetarian
£5.25
Paneer Tikka Vindaloo
Vegetarian
£6.85
Mixed Vegetable Bhuna
Vegetarian
£5.25
Tilapia Fish Fry
Boneless
£7.50
Tilapia Fish Bhuna
Boneless
£7.50
Paneer Tikka Bhuna
Vegetarian
£6.85
Mixed Vegetable Balti
Vegetarian
£5.25
Vegetable Samosa
2 Pieces
Vegan
£2.20
Garlic Chilli Mogo Regular
Cassava tossed in our freshly prepared chilli garlic sauce
Vegan
£3.99
Garlic Chilli Mogo Large
Cassava tossed in our freshly prepared chilli garlic sauce
Vegan
£4.99
Saag Aloo Side
House steamed Potatoes and spinach with light spices
Vegan
£4.10
Saag Aloo Main
House steamed Potatoes and spinach with light spices
Vegan
£5.50
Tarka Daal Side
Mixed lentils with garlic
Vegan
£4.10
Tarka Daal Main
Mixed lentils with garlic
Vegan
£5.50
Aloo Chana Side
Potatoes and chickpeas
Vegan
£4.10
Aloo Chana Main
Potatoes and chickpeas
Vegan
£5.50
Bhindi (Okra) Bhaji Side
Vegan
£4.10
Bhindi (Okra) Bhaji Main
Vegan
£5.50
Brinjal (Aubergine) Bhaji Side
Vegan
£4.10
Brinjal (Aubergine) Bhaji Main
Vegan
£5.50
Aloo Gobi Side
Potato and Cauliflower Bhaji
Vegan
£4.10
Aloo Gobi Main
Potato and Cauliflower Bhaji
Vegan
£5.50
Mushroom Bhaji Side
Vegan
£4.10
Mushroom Bhaji Main
Vegan
£5.50
Dhal Makhani - Main
A rich saucy dish with black lentils and red kidney beans, a traditional Indian luxury
Vegan
£5.50
Niramish Side
Mixed dry veg
Vegan
£4.10
Niramish Main
Mixed dry veg
Vegan
£5.50
Chana Masala Side
Chickpeas
Vegan
£4.10
Chana Masala Main
Chickpeas
Vegan
£5.50
Punjabi choyle - Main
Vegan
£5.50
Garlic Mushrooms Side
Vegan
£4.10
Garlic Mushrooms Main
Vegan
£5.50
Garlic Chilli Mushroom Side
Vegan
£4.10
Garlic Chilli Mushroom Main
Vegan
£5.50
Vegan Curry Vegetable Jalfrezi
3 options for 'Vegan Curries', choose Mild/Medium/Hot
Vegan
£5.25
Vegan Curry Vegetable Dopiaza
3 options for 'Vegan Curries', choose Mild/Medium/Hot
Vegan
£5.25
Vegan Curry Vegetable Balti
3 options for 'Vegan Curries', choose Mild/Medium/Hot
Vegan
£5.25
Vegan Curry Vegetable Bhuna
3 options for 'Vegan Curries', choose Mild/Medium/Hot
Vegan
£5.25
Vegan Curry Vegetable Karahi 4
3 options for 'Vegan Curries', choose Mild/Medium/Hot
Vegan
£5.25
Naan
Leavened bread cooked in clay oven
£1.50
Peshwari Naan
Sweet bread cooked with extra almonds & coconut
£2.50
Keema Naan
Filled with minced lamb & coriander
£2.90
Garlic Naan
Cooked with garlic, coriander & butter
£2.20
Cheese Naan
Stuffed with cheese
£2.50
Chilli Naan
Seasoned with chilli & coriander
£2.20
Kulcha Naan
Filled with potatoes & coriander
£2.50
Stuffed Paratha Vegetables
Stuffed with vegetables or potatoes
Vegan
£2.50
Bengal Flat Bread (7 Pieces)
Our authentic Bengal flat-bread that undoubtedly arouses the senses. Highly recommended
Vegan
£2.95
Stuffed Paratha Potatoes
Stuffed with vegetables or potatoes
Vegan
£2.50
Special Fried Rice Regular
With egg & peas
£3.25
Special Fried Rice Large
With egg & peas
£3.75
Keema Fried Rice Regular
Minced lamb
£3.25
Keema Fried Rice Large
Minced lamb
£4.25
Saag Aloo Sides
Potatoes & spinach with light spice
Vegetarian
£4.10
Saag Aloo Main
Potatoes & spinach with light spice
Vegetarian
£5.50
Tarka Daal Sides
Mixed lentils with garlic
Vegetarian
£4.10
Tarka Daal Main
Mixed lentils with garlic
Vegetarian
£5.50
Bombay Aloo Sides
Vegetarian
£4.10
Bombay Aloo Main
Vegetarian
£5.50
Muttar Paneer Sides
Green peas, cottage cheese, almonds & a variety of light spices that come together to make a rich & creamy dish
Vegetarian
£4.50
Muttar Paneer Main
Green peas, cottage cheese, almonds & a variety of light spices that come together to make a rich & creamy dish
Vegetarian
£5.85
Aloo Chana Sides
Potatoes & chickpeas
Vegetarian
£4.10
Aloo Chana Main
Potatoes & chickpeas
Vegetarian
£5.50
Bhindi Sides
Okra
Vegetarian
£4.10
Bhindi Main
Okra
Vegetarian
£5.35
Brinjal Bhaji Sides
Aubergine
Vegetarian
£4.10
Brinjal Bhaji Main
Aubergine
Vegetarian
£5.35
Chana Paneer Sides
Chickpeas & paneer
Vegetarian
£4.50
Chana Paneer Main
Chickpeas & paneer
Vegetarian
£5.85
Saag Paneer Sides
Spinach & paneer
Vegetarian
£4.50
Saag Paneer Main
Spinach & paneer
Vegetarian
£5.85
Chilli Paneer Sides
Paneer cooked with spring onions, tomatoes, green chilli, fresh coriander & spices
Vegetarian
£4.50
Chilli Paneer Main
Paneer cooked with spring onions, tomatoes, green chilli, fresh coriander & spices
Vegetarian
£5.85
Aloo Gobi Sides
Potato & cauliflower bhaji
Vegetarian
£4.10
Aloo Gobi Main
Potato & cauliflower bhaji
Vegetarian
£5.50
Saag Sides
Spinach
Vegetarian
£4.10
Saag Main
Spinach
Vegetarian
£5.50
Mushroom Bhaji Sides
Vegetarian
£4.10
Mushroom Bhaji Main
Vegetarian
£5.50
Daal Makhani - Main
A rich curry with black lentils & red kidney beans
Vegetarian
£5.50
Daal Masala Sides
Vegetarian
£4.10
Daal Masala Main
Vegetarian
£5.50
Niramish Sides
Mixed vegetable dry
Vegetarian
£4.10
Niramish Main
Mixed vegetable dry
Vegetarian
£5.50
Aloo Peas Sides
Vegetarian
£4.10
Aloo Peas Main
Vegetarian
£5.50
Aloo Methi Sides
Vegetarian
£3.90
Aloo Methi Main
Vegetarian
£5.35
Rajma - Main
Kidney beans in a delicate creamy tomato sauce
Vegetarian
£5.50
Chana Masala Sides
Chickpeas
Vegetarian
£4.10
Chana Masala Main
Chickpeas
Vegetarian
£5.50
Punjabi Choley - Main
Vegetarian
£5.50
Garlic Mushroom Sides
Vegetarian
£4.10
Garlic Mushroom Main
Vegetarian
£5.50
Garlic Chilli Mushrooms Sides
Vegetarian
£4.10
Garlic Chilli Mushrooms Main
Vegetarian
£5.50
Jeera Aloo Main
Spiced potatoes
Vegetarian
£5.50
Jeera Aloo Sides
Spiced potatoes
Vegetarian
£4.10
Shatkora Chicken
Cooked with a unique cooking lime from Bangladesh. its aromatic taste makes it different from any other lime. cooked in special Bengal spices in a medium spiced sauce
£7.50
Shatkora Lamb
Cooked with a unique cooking lime from Bangladesh. its aromatic taste makes it different from any other lime. cooked in special Bengal spices in a medium spiced sauce
£7.50
Shatkora Prawn
Cooked with a unique cooking lime from Bangladesh. its aromatic taste makes it different from any other lime. cooked in special Bengal spices in a medium spiced sauce
£7.50
Naga Chicken
Cooked with famous naga chilli, one of the hottest chillis in the world but toned down to give a very distinct aromatic flavour in a dry textured sauce
£7.50
Naga Lamb
Cooked with famous naga chilli, one of the hottest chillis in the world but toned down to give a very distinct aromatic flavour in a dry textured sauce
£7.50
Naga Prawn
Cooked with famous naga chilli, one of the hottest chillis in the world but toned down to give a very distinct aromatic flavour in a dry textured sauce
£7.50
Achari Chicken
Cooked with mixed herbs, spices, onion, garlic, ginger & pickle, giving a tangy & medium hot flavour
£7.50
Achari Lamb
Cooked with mixed herbs, spices, onion, garlic, ginger & pickle, giving a tangy & medium hot flavour
£7.50
Achari Prawn
Cooked with mixed herbs, spices, onion, garlic, ginger & pickle, giving a tangy & medium hot flavour
£7.50
Pasanda Chicken
Cooked with fresh cream to chef's own recipe (mild)
£7.95
Bengal Chicken or Lamb Rezalla
An ancient rich flavoured Bengali dish with capsicum and onions in a thick gravy, must try! (please specify mild, medium, or spicy)
£7.95
Mixed Vegetable Jalfrezi
Vegetarian
£5.25
Paneer Tikka Jalfrezi
Vegetarian
£6.85
Mixed Vegetable Korma
Vegetarian
£5.50
Paneer Tikka Korma
Vegetarian
£6.90
Tandoori Chicken Main Half
£5.50
Tandoori Chicken Main Full
£9.95
Indian Style Peri Peri Chicken Half
£5.75
Indian Style Peri Peri Chicken Full
£10.50
Tandoori Garlic Chicken Tikka
£6.50
Tandoori Paneer Tikka
Vegetarian
£6.25
Tandoori Seekh Kebab (4 Pieces)
£6.50
Tandoori Salmon Tikka Main
Tender salmon marinated with our own special Kenton spices & herbs
£10.99
Tandoori Shashlik Chicken
Dressed with capsicum, tomatoes & onion
£7.99
Tandoori Shashlik Lamb
Dressed with capsicum, tomatoes & onion
£7.99
Tandoori Shashlik Paneer
Dressed with capsicum, tomatoes & onion
£7.99
Tandoori King Prawn Shashlik
With capsicum, tomatoes & onions
£11.25
Tandoori Lamb Chops (5 Pieces)
£9.75
Tandoori Fish
Fresh large whole Trout grilled in tandoor
£8.50
Tandoori Mixed Grill
A popular combinati on of tandoori chicken, 3 chicken tikka, 3 lamb tikka, 3 paneer tikka, 2 sheek kebabs & tandoori wings. Served with fresh naan bread, crispy salad and mint sauce
£11.95
Mixed Grill Special
A succulent selection of whole tandoori chicken, 4 tender lamb chops, 4 chicken, lamb and paneer tikka, 4 seekh kebabs & tandoori wings served with 2 naan and 2 pilau or plain rice, crispy salad & house mint sauces
£37.99
Mixed Vegetable Dansak
Vegetarian
£5.25
Paneer Tikka Dansak
Vegetarian
£6.85
Vegetable Samosa (2 Pieces)
Vegetarian
£2.35
Onion Bhaji (4 Pieces)
Vegetarian
£2.50
Aloo Chaat
Small juicy pieces of potatoes spiced with a sour sauce
Vegetarian
£3.50
Paneer Tikka Roll Regular
Vegetarian
£3.99
Paneer Tikka Roll Large
Vegetarian
£4.75
Aloo Chop (2 Pieces)
Hand mashed potato balls with fresh coriander
Vegetarian
£2.30
Garlic Chilli Mogo Regular
Cassava tossed in our freshly prepared garlic chilli sauce
Vegetarian
£3.50
Paneer Vegetable Pakora - Large
Slices of potatoes, brinjal and paneer cooked in house made batter
Vegetarian
£5.95
Mixed Vegetable Pakora - Large
Slices of potatoes, brinjal and paneer cooked in house made batter
Vegetarian
£5.95
Vegetable Platter for 1
Combination of paneer tikka, onion bhaji, aloo chop & vegetable samosa
Vegetarian
£3.99
Garlic Chilli Mogo Large
Cassava tossed in our freshly prepared garlic chilli sauce
Vegetarian
£4.95
Crispy Bhajia - Large
Selection of crispy potato pakoras served with chutney
Vegetarian
£5.95
Mixed Vegetable Pathia
Vegetarian
£5.25
Paneer Tikka Pathia
Vegetarian
£6.85
Paneer Tikka Masala
Vegetarian
£6.99
Tandoori King Prawn Masala
£11.50
Mixed Vegetable Masala
Vegetarian
£5.75
Butter Paneer Masala
Vegetarian
£6.99
Mixed Vegetable Curry
Vegetarian
£4.90
Paneer Tikka Curry
Vegetarian
£6.50
Contact Us
Find Us
112 Windermere Avenue, London, HA98RB
We deliver to
HA0, HA1, HA2, HA3, HA4, HA5, HA7, HA8, HA9, NW10, NW2, NW4, NW9, UB5, UB6